Husker Football
Countdown
2017!
Turn off the fight-song (the green botton at the top of this webpage) and
click on the (above gray) play button to hear Grant Wistrom fire up the troops
by leading the team in the
prayer before the tunnel walk!
Husker Pump Up Video 2014
Husker Pump Up Video 2014-2015
Husker Pump Up Videos 2017
- - -> Below times are Central <- - -
* = Estimated based on prior year.
If you see a mistake, or know of an update --PLEASE LET ME KNOW!
Current Husker Tunnel Walk Videos
Best YouTube Husker Videos of 2014
Rex Burkhead Career Highlights
Way back when...
UNL Entered Into the Big 10
KENT SIEVERS/THE WORLD-HERALD Published Saturday June 12, 2010
Shatel: As college landscape shifted, Nebraska stood at the epicenter LINCOLN - If Friday were a football game, you'd want to keep the program.

What a day. Whirlwind day. Important day. Historic day. Hell of a day.

One of the biggest days, if not the biggest, in University of Nebraska history.

The historians can debate that one. What can't be denied is the unmistakable feeling that Friday changed Nebraska.

Within a breathless, mind-blowing four-hour span, Nebraska went from trying to beat out Missouri for a Big Ten invite to trying to play for the 2011 Big Ten championship.

The Board of Regents meeting. The overflow crowd. The application sent for Big Ten membership.

Four hours later, Big Ten commissioner Jim Delany is strolling into the campus visitors center with the invite in hand and a red "N" pin on his suit lapel.

The "N" logo and Big Ten logo appearing side by side on a projection screen.

Matt Davison, who helped define the Big 12 with his 1997 catch at Missouri, holding a Big Ten Network microphone with a big grin on his face.

Finally, the nuptials. Do you, Nebraska, take this league to be your lawfully wedded home for the next 100 years?

I can't believe it. All the endless and maddening speculation of the last few months came to life Friday. And it was all larger than life.

Elsewhere, the landscape burned. Missouri was spurned. Texas A&M thinking Southeastern Conference. Texas and its entourage gazing westward. The Pac-10 to Pac-16? Then other leagues would answer, right? Oh, boy, here we go.

College football will never be the same, and it all seemed to start right here, with Lincoln as the epicenter for change, on a day when Big Red football would never be the same.

Goodbye, Manhattan; hello, East Lansing. Goodbye, Boulder; hello, Columbus. Goodbye, Austin; hello, Iowa City.

It was a big day, the biggest day, and nobody was bigger than Harvey Perlman and Tom Osborne.

The chancellor and athletic director/legend-at-large put on a show at the regents meeting. They laid it all out. And while they were at it, they laid out Missouri and Texas. It was powerful. It was clinical. Nebraska, eerily quiet all these weeks, finally spoke up and turned up the volume for all the Big 12 to hear.

Perlman called out Mizzou for being the one to start the expansion circus.

Osborne talked about schools in the Big 12 that were asking NU to stay and all the while selling themselves to not one, not two but three other leagues.

Perlman said the Big 12 presidents wouldn't commit to staying in the league if Colorado and Missouri both left.

And then, in a downright delicious passage, Perlman talked about calling Texas' bluff. And how he asked Texas to commit its TV rights to the Big 12 if it was serious about the league, and how Texas declined.

Brilliant, Harvey. The Steve Pederson years are now forgiven.

Then, finally, the money quote from Osborne: "One team leaving does not break up a conference. Two teams leaving does not break up a conference. Six teams leaving breaks up a conference."

Boom. They should engrave those words on a plaque, or on the side of Memorial Stadium. Maybe put them on the final Big 12 football trophy.

Nobody in the room cheered, but you got the feeling the non-journalists in the room wanted to leap to their feet and roar. Osborne and Perlman were rolling, and, for many, it was like 14 years of frustration flowing out.

Perlman dropped the bomb that NU wanted to start play in the Big Ten in 2011 - one year before the other Big 12 exiles would join the Pac-10. He said he didn't think financial penalties from the Big 12 were appropriate. But who's going to be left in the Big 12 to collect the money anyway?

Finally, Nebraska was calling the shots and dictating terms on its way out the door, all the while pulling down the fa‡ade on Texas' Big 12 loyalty. You could hear the ovations from Alliance to Auburn. Even those not on board with this move had to be nodding approval.

Meanwhile, Delany backed up his newest chancellor at the 5 p.m. press conference, saying that one team leaving shouldn't level a conference and that the Big Ten had done fine with 10 teams, then 11. So now even the Big Ten commish was calling Texas' bluff.

The future of the old Big 12 is in the rear-view mirror. Nebraska was quick to look ahead, and suddenly it was OK to talk about an Iowa rivalry and recruiting in the Big Ten and how many times John Cook's dynasty will be on the Big Ten Network.

Save for Bo Pelini, the Ohio State Buckeye, who, when asked about the move, said he's "not an emotional guy." So Bo will be the same Bo in the new league as the old.

The lack of emotion toward the old Big Eight ties was the one downside to this day. It should not be taken lightly.

What happened here on Friday was the end of a 100-year relationship. Nebraska started the Missouri Valley Conference with Kansas, Missouri and Iowa State, Iowa and Oregon U. of St. Louis. Kansas State, Oklahoma, Colorado and Oklahoma State would later make it the Big Six, Big Seven and Big Eight.

NU has been playing Kansas uninterrupted since 1907, the longest-running series in college football. It would be nice to see that series continue as a nonconference game.

We'll see. Emotions are running high now, feelings and traditions have been trampled. NU shot a volley back in the blame game, and that game will probably continue, with greater intensity, as the Big 12 plays out its final year.

And how about that final year? Nebraska's final trips to Ames and Manhattan and Stillwater will be sentimental journeys, including R-rated sentiments sure to be sent NU's way.

Could Oct. 16 - Texas in the house - be any bigger? It is now.

But there won't be any more league trips to Mount Oread in Lawrence or to Folsom Field the day after Thanksgiving, and there won't be a return game to Austin. Nebraska cut the cord with all of that on Friday, in the name of loyalty.

Loyalty to itself.

It was more than the right thing to do. In a world that changes like a twitter post, Nebraska stood up for itself and secured a spot in this game of musical chairs. It secured its future for all the students who will now go into the world with Big Ten degrees and all the quarterbacks who will dream of playing in the Rose Bowl.

Even the master of understatement seemed to get the magnitude of the moment.

Said Osborne: "This is a very important day for Nebraska."
Memorable Pictures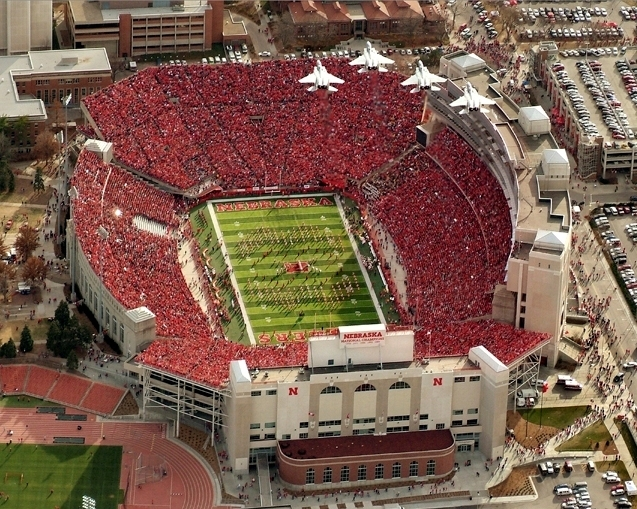 2008 Season Opener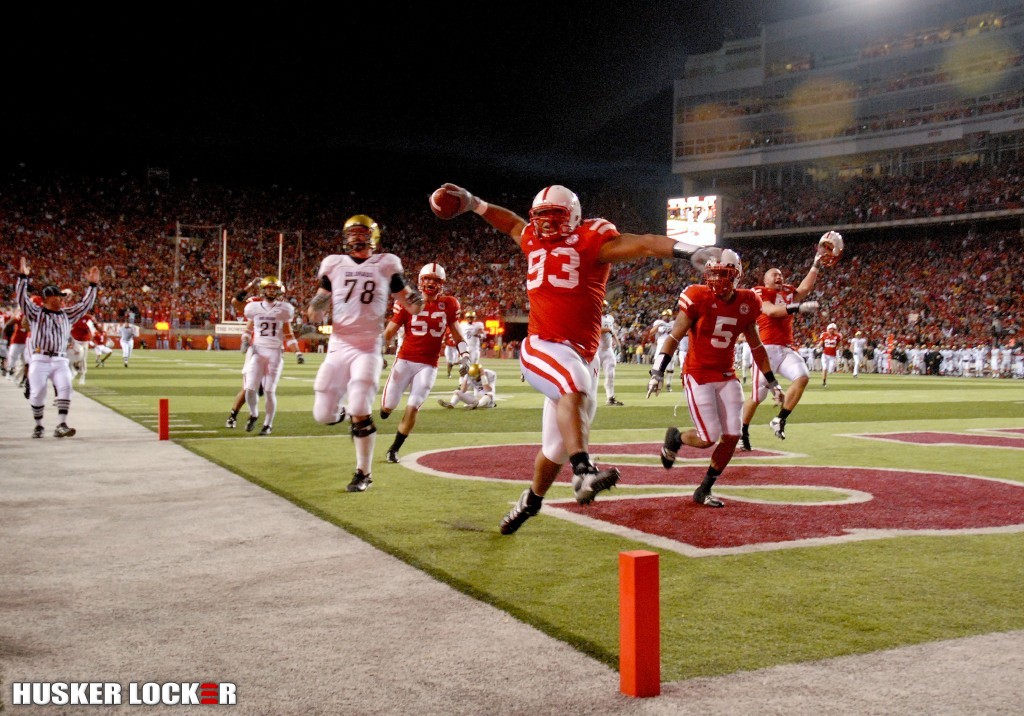 2008 Regular Season ENDER! (Suh's Interception for a TD vs. CU)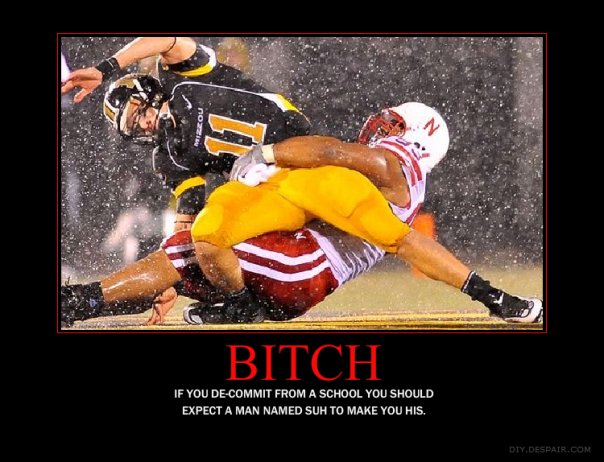 Big Time Sack!
Miscellaneous
A first grade teacher explains to her class that she is a Texas LongHorn fan. She asks her students to raise their hands if they are Texas fans too. Not really knowing what a Texas fan was, but wanting to be liked by their teacher, their hands fly into the air. There is,however,one exception. A little girl named Janet has not gone along with the crowd.

The teacher asks her why she has decided to be different.

"Because I'm not a Texas fan" she reports.

"Then," asks the teacher, "what are you?"

"I'm a proud "Husker Fan" boasts the little girl.

The teacher is a little perturbed now, her face slightly red. She asks Janet why she is an Nebraska fan.

"Well, my Dad and Mom are Husker fans, so I'm a Husker fan too" she responds.

The teacher is angry now "That's no reason," she says loudly. "What if your mom was a moron, and your dad was an idiot. What would you be then?"

Janet smiles and says, "Then I'd be a Texas fan."


-- Go Huskers!!!
Return Home | Official 2017 Schedule | Big Husker Fan | Huskers.COM | HuskerPedia | Resources

2017 Big 10 Helmet Schedule